Bottom Line
A prolonged and unprecedented winter weather event with significant to extreme impacts to travel and infrastructure will continue through the next several days.
Overview
Today (Thursday)
For North Texas: Patchy light freezing rain and icing will continue this morning, but precipitation will end as drying occurs this afternoon. Temperatures will remain below freezing but slow improvements to existing icy roads will occur.
For Central Texas: Winter Storm Warning now in effect (see graphic below for exact area). Moderate freezing rain and sleet are expected through this afternoon. Ice accumulations of a quarter-inch will increase the risk of power outages. Travel will be very hazardous especially on bridges and overpasses, but surface roads should have issues as well.
Tonight (Thursday night) and Friday morning
Light freezing drizzle possible across the entire region. Additional accumulations will be light, but may result in renewed travel impacts for any areas that improve this afternoon.
Saturday
A low chance of light wintry precipitation Saturday morning with minor impacts.
Temperatures rising above freezing south of I-20 in the afternoon allowing for some melting of any remaining ice in Central Texas.
Sunday through Thursday
Dangerous and record-breaking cold expected Sunday night through Tuesday night.
Significant snowfall with 2-6" of snow looking more likely areawide Sunday night and Monday morning. Where higher amounts of snowfalls, travel may become impossible and possibly life-threatening for stranded motorists during this time.
Temperatures falling into the single digits and teens Sunday night and Monday as a stronger arctic front blasts through. Tuesday morning will be the coldest with temperatures from 0 degrees along the Red River to 10 degrees in Central Texas.
Wind chills between -15 and 10 from Sunday night through Tuesday.
Lingering subfreezing temperatures into next week mean road conditions will remain hazardous (ice and snow-packed) for several days. (Be aware that salt becomes less effective as a de-icer as temperatures fall below 15 degrees.)
Many pipes will freeze and break, even including some that aren't directly exposed.
Demand for energy across Texas may reach record levels Monday and Tuesday.  When these temperatures have occurred in the past (last time Feb 2011), some power disruptions have occurred.
Area of Concern 
Today: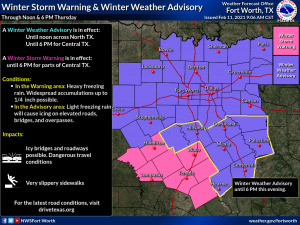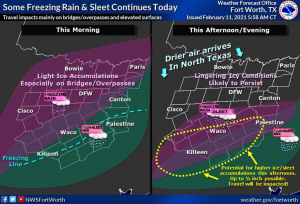 Sunday Night-Monday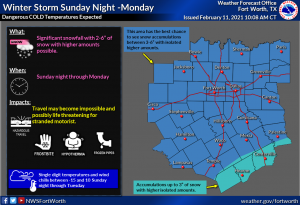 Threats/Hazardous Weather Types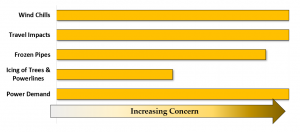 Forecaster Confidence 

General Timing

What We Are Certain Of: 
The potential for freezing drizzle tonight and Friday morning. Anything that falls will stick to the bridges and overpasses and quite possibly roads.
Dangerously frigid conditions will affect the area Sunday night through Tuesday night with near-record low temperatures.
Icy/snowy conditions and frigid cold temperatures are expected to impact people, travel, pipes, and possibly some power infrastructure.
Accumulating snow will occur Sunday night and Monday.
The worst of the winter storm will occur Sunday night and Monday morning, but impacts will linger into at least mid-week.
What We Are Less Certain Of:
How much winter precipitation/sleet will occur Saturday and the potential impacts.
The exact snow accumulation amounts for the Sunday Night/Monday system.
The potential for another round of snow Wednesday.
When will the next email update be sent?
Additional Resources 
NWS Fort Worth Homepage http://www.weather.gov/fortworth
Hourly Forecasts (Click your location) https://www.weather.gov/forecastpoints
NWS Fort Worth Weather Tabs https://arcg.is/1S19nH
NWS Fort Worth Hazard Pages http://www.weather.gov/fwd/hazardplanner?nort,TODAY
NWSChat http://nwschat.weather.gov/live
Who's eligible for NWSChat https://nwschat.weather.gov/NWSChat_Terms_of_Use.pdf
NWS Fort Worth Briefing Page https://noaa.maps.arcgis.com/apps/MapSeries/index.html?appid=fd06a2bea0a64f0c90842761191e985b